After the Summorum Pontificum and the ad orientem Mass of the Holy Father in the Sistine Chapel, and of course, for the Philippines, the Thanksgiving Mass in the Extraordinary Form of Bishop Camilo Gregorio, comes another news posted and reposted in some of my favorite Catholic blogs. This article comes from
Rorate Caeli
with a picture inset from
Hallowedground
.
Welcome home, brothers and sisters!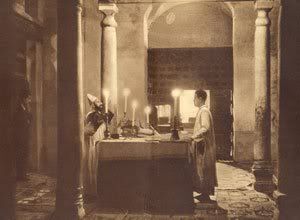 On Thursday; January 17, 2008, the "Day of Thanksgiving" of the Rogation of the Ninevites, for which day the Gospel says, "On that day you will not question me about anything. Amen, amen, I say to you, whatever you ask the Father in my name he will give you" (John 16:23), the Clergy Conference of the Assyrian Catholic Apostolic Diocese (ACAD) met in Dublin, California, to discuss the current situation and consider future plans for reestablishing communion with other Christians, in order to end their ecclesial isolation.

After praying to the Father and reflecting on the Scriptures and Tradition, the attendees unanimously adopted a "Declaration of Intention" in which they state their resolution

"to enter full communion with the Catholic Church" and "to resume church unity with the Chaldean Catholic Church"

.

As a result, they foresee that this declaration will initiate a process of negotiation with respective Church authorities to define a concrete model of this union, in which the particularity of our apostolic tradition is preserved. (Source)
The Chaldean Catholic Church is a Patriarchal Church

sui iuris

in full communion with the Apostolic See, under the leadership of the Patriarch of Babylon of the Chaldeans, Mar Emmanuel III

Cardinal

Delly.